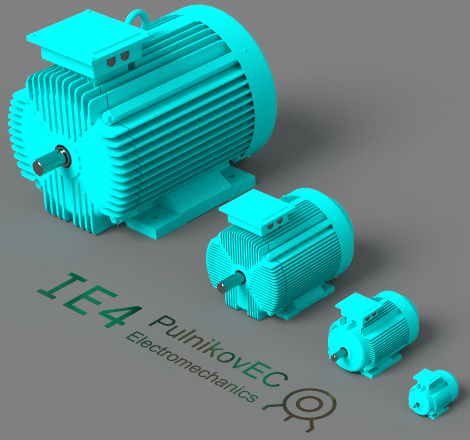 We have developed a full technical documentation for production of asynchronous motors of IE4 series including:
a complete technical specification of the motor;
a full specification of the stator winding and electromagnetic core of the motor;
a complete design of the motor with all the components comprising STEP files for the components and for the assembly and accompanying drawings in a format preferred by the customer.
Click on any of the sections below to expand its content.
Why IE4?
Our IE4 motor designs fully comply with IEC 60034-40-1 2014.
Our IE4 motor designs have lower operational costs due to higher efficiency compared to IE3 motor designs. The overall motor cost comprises the price of the motor and its operational costs. The overall motor cost of IE4 motors made according to our designs would be substantially lower compared to IE3 motors.
Our IE4 motor designs will give you a cost reduction due to better use of materials compared to existing IE4 designs. This better use of materials enabled us to develop subsequent series of IE5.
Our IE4 motor designs comply with IEC standard on the starting torque. Therefore they do not require additional starting equipment and accompanying extra costs.
Our IE4 motor designs are developed for Y connection. Such designs are more challenging to make, but they guarantee efficient operation even in case of asymmetry of the power supply
Our IE4 motor designs share a lot of parts with our IE3 and IE5 motor designs providing a reduction of manufacturing costs.
Efficiency of IE4 vs IE3 series
Weight of active materials of IE4 vs IE3 series
Motor data for 3000 rpm, 2-pole, 50 Hz
| Motor type | Axis height [mm] | Linear voltage [V] | Output power [kW] | Nominal speed [rpm] | Efficiency* @ 100% load | Efficiency* @ 75% load | Efficiency* @ 50% load | Power factor Cos φ | Nominal current In [A] | Start current, Is / In | Nominal torque Tn [Nm] | Start torque, Tl / Tn | Max torque, Tb / Tn | Mass of active materials [kg] |
| --- | --- | --- | --- | --- | --- | --- | --- | --- | --- | --- | --- | --- | --- | --- |
| ADP56S2IE4 | 56 | 400 Y | 0.09 | 2680 | 0.674 | 0.681 | 0.651 | 0.8 | 0.241 | 3.65 | 0.321 | 1.94 | 2.33 | 1.82 |
| ADP56S2IE4 | 56 | 400 Y | 0.12 | 2639 | 0.679 | 0.702 | 0.687 | 0.83 | 0.307 | 3.49 | 0.434 | 1.9 | 2.09 | 1.94 |
| ADP63S2IE4 | 63 | 400 Y | 0.18 | 2662 | 0.725 | 0.744 | 0.738 | 0.88 | 0.41 | 3.85 | 0.646 | 1.91 | 2.13 | 2.84 |
| ADP63L2IE4 | 63 | 400 Y | 0.25 | 2683 | 0.753 | 0.773 | 0.772 | 0.89 | 0.544 | 3.99 | 0.89 | 2.01 | 2.19 | 3.2 |
| ADP71S2IE4 | 71 | 400 Y | 0.37 | 2796 | 0.784 | 0.795 | 0.781 | 0.88 | 0.777 | 5.13 | 1.26 | 2.08 | 2.53 | 4.23 |
| ADP71L2IE4 | 71 | 400 Y | 0.55 | 2813 | 0.815 | 0.825 | 0.813 | 0.86 | 1.13 | 5.49 | 1.87 | 2.48 | 2.69 | 5.18 |
| ADP80S2IE4 | 80 | 400 Y | 0.75 | 2874 | 0.836 | 0.833 | 0.808 | 0.81 | 1.59 | 6.73 | 2.49 | 2.62 | 3.16 | 7.17 |
| ADP80L2IE4 | 80 | 400 Y | 1.1 | 2870 | 0.853 | 0.856 | 0.841 | 0.84 | 2.21 | 6.75 | 3.66 | 2.58 | 2.94 | 8.32 |
| ADP90S2IE4 | 90 | 400 Y | 1.5 | 2877 | 0.866 | 0.868 | 0.853 | 0.85 | 2.96 | 6.74 | 4.98 | 2.25 | 2.81 | 11.7 |
| ADP90L2IE4 | 90 | 400 Y | 2.2 | 2880 | 0.881 | 0.887 | 0.878 | 0.88 | 4.12 | 6.62 | 7.29 | 2.26 | 2.69 | 13.7 |
| ADP100S2IE4 | 100 | 400 Y | 3 | 2900 | 0.894 | 0.9 | 0.892 | 0.87 | 5.57 | 6.25 | 9.88 | 1.76 | 2.52 | 17.6 |
| ADP112S2IE4 | 112 | 400 Y | 4 | 2959 | 0.929 | 0.925 | 0.909 | 0.82 | 7.53 | 8.02 | 12.9 | 1.68 | 3.56 | 29.2 |
| ADP132S2IE4 | 132 | 400 Y | 5.5 | 2945 | 0.921 | 0.919 | 0.905 | 0.86 | 10 | 7.78 | 17.8 | 1.57 | 2.92 | 35.1 |
| ADP132L2IE4 | 132 | 400 Y | 7.5 | 2948 | 0.93 | 0.928 | 0.917 | 0.85 | 13.6 | 7.57 | 24.3 | 1.6 | 2.87 | 42.2 |
| ADP160S2IE4 | 160 | 400 Y | 11 | 2961 | 0.937 | 0.936 | 0.926 | 0.88 | 19.4 | 7.61 | 35.5 | 1.52 | 3.16 | 54.6 |
| ADP160M2IE4 | 160 | 400 Y | 15 | 2958 | 0.939 | 0.941 | 0.935 | 0.89 | 25.9 | 7.16 | 48.4 | 1.44 | 2.94 | 61.2 |
| ADP160L2IE4 | 160 | 400 Y | 18.5 | 2955 | 0.941 | 0.944 | 0.94 | 0.9 | 31.6 | 6.63 | 59.8 | 1.35 | 2.7 | 66.8 |
| ADP180S2IE4 | 180 | 400 Y | 22 | 2960 | 0.946 | 0.948 | 0.943 | 0.9 | 37.1 | 7.26 | 71 | 1.31 | 2.89 | 83.7 |
| ADP200S2IE4 | 200 | 400 Y | 30 | 2956 | 0.946 | 0.948 | 0.943 | 0.89 | 51.5 | 6.63 | 96.9 | 1.3 | 2.71 | 106 |
| ADP200L2IE4 | 200 | 400 Y | 37 | 2957 | 0.949 | 0.952 | 0.949 | 0.92 | 61.2 | 7.17 | 119 | 1.45 | 2.64 | 117 |
| ADP225S2IE4 | 225 | 400 Y | 45 | 2958 | 0.953 | 0.954 | 0.949 | 0.9 | 75.4 | 6.68 | 145 | 1.16 | 2.74 | 159 |
| ADP250S2IE4 | 250 | 400 Y | 55 | 2964 | 0.953 | 0.952 | 0.945 | 0.91 | 91.6 | 6.68 | 177 | 1.18 | 2.75 | 184 |
| ADP280S2IE4 | 280 | 400 Y | 75 | 2982 | 0.958 | 0.953 | 0.941 | 0.89 | 127 | 8.24 | 240 | 1.8 | 4.43 | 291 |
| ADP280L2IE4 | 280 | 400 Y | 90 | 2978 | 0.959 | 0.957 | 0.948 | 0.92 | 148 | 11.29 | 289 | 1.04 | 5.64 | 289 |
| ADP315S2IE4 | 315 | 690 Y | 110 | 2965 | 0.96 | 0.96 | 0.955 | 0.92 | 104 | 6.2 | 354 | 0.97 | 2.48 | 320 |
| ADP315M2IE4 | 315 | 690 Y | 132 | 2972 | 0.963 | 0.963 | 0.958 | 0.92 | 125 | 7.91 | 424 | 1.55 | 2.24 | 353 |
| ADP315L2IE4 | 315 | 690 Y | 160 | 2964 | 0.963 | 0.964 | 0.962 | 0.93 | 149 | 6.24 | 515 | 1.23 | 1.74 | 380 |
| ADP315SL2IE4 | 315 | 690 Y | 200 | 2966 | 0.965 | 0.967 | 0.964 | 0.93 | 186 | 6.14 | 644 | 1.24 | 1.72 | 447 |
| ADP355S2IE4 | 355 | 690 Y | 250 | 2968 | 0.965 | 0.967 | 0.966 | 0.92 | 236 | 6.29 | 804 | 1.34 | 2.31 | 483 |
| ADP355M2IE4 | 355 | 690 Y | 315 | 2964 | 0.966 | 0.97 | 0.97 | 0.93 | 294 | 4.7 | 1015 | 0.81 | 2.03 | 580 |
| ADP355L2IE4 | 355 | 690 Y | 355 | 2963 | 0.967 | 0.97 | 0.971 | 0.92 | 333 | 4.55 | 1144 | 0.78 | 1.97 | 595 |
*Efficiency is in accordance with IEC 60034-40-1 2014
Motor data for 1500 rpm, 4-pole, 50 Hz
| Motor type | Axis height [mm] | Linear voltage [V] | Output power [kW] | Nominal speed [rpm] | Efficiency* @ 100% load | Efficiency* @ 75% load | Efficiency* @ 50% load | Power factor Cos φ | Nominal current In [A] | Start current, Is / In | Nominal torque Tn [Nm] | Start torque, Tl / Tn | Max torque, Tb / Tn | Mass of active materials [kg] |
| --- | --- | --- | --- | --- | --- | --- | --- | --- | --- | --- | --- | --- | --- | --- |
| ADP56S4IE4 | 56 | 400 Y | 0.06 | 1410 | 0.654 | 0.616 | 0.54 | 0.51 | 0.257 | 3.02 | 0.406 | 3.08 | 3.45 | 1.99 |
| ADP56L4IE4 | 56 | 400 Y | 0.09 | 1383 | 0.668 | 0.646 | 0.582 | 0.57 | 0.338 | 2.89 | 0.621 | 2.48 | 2.72 | 2.14 |
| ADP63S4IE4 | 63 | 400 Y | 0.12 | 1373 | 0.72 | 0.714 | 0.67 | 0.64 | 0.377 | 2.95 | 0.835 | 1.99 | 2.46 | 2.78 |
| ADP63L4IE4 | 63 | 400 Y | 0.18 | 1364 | 0.747 | 0.753 | 0.725 | 0.68 | 0.51 | 3.16 | 1.26 | 2.08 | 2.22 | 3.29 |
| ADP71S4IE4 | 71 | 400 Y | 0.25 | 1383 | 0.769 | 0.769 | 0.739 | 0.66 | 0.706 | 3.38 | 1.73 | 1.93 | 2.2 | 4.44 |
| ADP71L4IE4 | 71 | 400 Y | 0.37 | 1396 | 0.803 | 0.804 | 0.778 | 0.67 | 0.998 | 5.68 | 2.53 | 2.29 | 3.22 | 5.8 |
| ADP80S4IE4 | 80 | 400 Y | 0.55 | 1439 | 0.838 | 0.834 | 0.808 | 0.76 | 1.24 | 6.26 | 3.65 | 3.15 | 3.17 | 7.29 |
| ADP80L4IE4 | 80 | 400 Y | 0.75 | 1438 | 0.849 | 0.847 | 0.824 | 0.76 | 1.68 | 6.07 | 4.98 | 2.95 | 3.18 | 8.62 |
| ADP90S4IE4 | 90 | 400 Y | 1.1 | 1438 | 0.866 | 0.865 | 0.847 | 0.79 | 2.31 | 6.25 | 7.31 | 2.8 | 2.85 | 12.6 |
| ADP90L4IE4 | 90 | 400 Y | 1.5 | 1441 | 0.873 | 0.871 | 0.851 | 0.75 | 3.29 | 6.02 | 9.94 | 2.9 | 2.89 | 15.6 |
| ADP100S4IE4 | 100 | 400 Y | 2.2 | 1447 | 0.899 | 0.902 | 0.893 | 0.83 | 4.27 | 6.5 | 14.5 | 2.67 | 2.74 | 20.4 |
| ADP100L4IE4 | 100 | 400 Y | 3 | 1446 | 0.903 | 0.906 | 0.897 | 0.8 | 5.98 | 6.04 | 19.8 | 2.43 | 2.66 | 25.7 |
| ADP112S4IE4 | 112 | 400 Y | 4 | 1458 | 0.912 | 0.915 | 0.907 | 0.85 | 7.44 | 6.34 | 26.2 | 2.08 | 2.53 | 29.8 |
| ADP132S4IE4 | 132 | 400 Y | 5.5 | 1466 | 0.923 | 0.923 | 0.912 | 0.84 | 10.3 | 6.01 | 35.8 | 1.66 | 2.48 | 42.7 |
| ADP132L4IE4 | 132 | 400 Y | 7.5 | 1468 | 0.929 | 0.929 | 0.92 | 0.84 | 13.8 | 6.26 | 48.8 | 1.66 | 2.56 | 52.9 |
| ADP160S4IE4 | 160 | 400 Y | 11 | 1480 | 0.936 | 0.936 | 0.928 | 0.85 | 19.9 | 8.04 | 71 | 2.02 | 3.18 | 66.7 |
| ADP160L4IE4 | 160 | 400 Y | 15 | 1481 | 0.94 | 0.941 | 0.934 | 0.85 | 27.2 | 8.47 | 96.7 | 2.22 | 3.19 | 80.6 |
| ADP180S4IE4 | 180 | 400 Y | 18.5 | 1484 | 0.944 | 0.945 | 0.938 | 0.85 | 33.3 | 7.65 | 119 | 1.78 | 3.25 | 92.6 |
| ADP180L4IE4 | 180 | 400 Y | 22 | 1485 | 0.949 | 0.949 | 0.941 | 0.84 | 39.7 | 7.01 | 141 | 1.45 | 3.29 | 114 |
| ADP200S4IE4 | 200 | 400 Y | 30 | 1483 | 0.949 | 0.951 | 0.948 | 0.87 | 52.2 | 7.06 | 193 | 1.49 | 2.77 | 127 |
| ADP225S4IE4 | 225 | 400 Y | 37 | 1487 | 0.953 | 0.954 | 0.949 | 0.87 | 64.4 | 7.52 | 238 | 1.53 | 2.79 | 156 |
| ADP225L4IE4 | 225 | 400 Y | 45 | 1486 | 0.955 | 0.956 | 0.952 | 0.87 | 78.1 | 7.14 | 289 | 1.47 | 2.65 | 177 |
| ADP250S4IE4 | 250 | 400 Y | 55 | 1489 | 0.958 | 0.958 | 0.953 | 0.9 | 91.9 | 8.71 | 353 | 1.67 | 3.51 | 219 |
| ADP280S4IE4 | 280 | 400 Y | 75 | 1491 | 0.96 | 0.958 | 0.95 | 0.9 | 125 | 10.14 | 480 | 1.93 | 4.11 | 318 |
| ADP280L4IE4 | 280 | 400 Y | 90 | 1491 | 0.962 | 0.96 | 0.952 | 0.89 | 151 | 10.27 | 576 | 1.99 | 4.21 | 353 |
| ADP315S4IE4 | 315 | 690 Y | 110 | 1487 | 0.964 | 0.964 | 0.96 | 0.92 | 104 | 7.24 | 706 | 1.27 | 2.92 | 395 |
| ADP315M4IE4 | 315 | 690 Y | 132 | 1488 | 0.966 | 0.966 | 0.962 | 0.92 | 124 | 7.52 | 847 | 1.35 | 3.03 | 460 |
| ADP315L4IE4 | 315 | 690 Y | 160 | 1487 | 0.967 | 0.967 | 0.964 | 0.92 | 150 | 6.96 | 1027 | 1.26 | 2.81 | 503 |
| ADP315SL4IE4 | 315 | 690 Y | 200 | 1487 | 0.968 | 0.969 | 0.966 | 0.93 | 186 | 6.97 | 1284 | 1.28 | 2.79 | 587 |
| ADP355S4IE4 | 355 | 690 Y | 250 | 1486 | 0.968 | 0.97 | 0.967 | 0.93 | 233 | 6.59 | 1606 | 1.16 | 2.65 | 717 |
| ADP355M4IE4 | 355 | 690 Y | 315 | 1484 | 0.968 | 0.971 | 0.97 | 0.92 | 296 | 5.62 | 2027 | 0.99 | 2.28 | 766 |
| ADP355L4IE4 | 355 | 690 Y | 355 | 1484 | 0.969 | 0.972 | 0.971 | 0.92 | 333 | 5.67 | 2284 | 1 | 2.29 | 791 |
*Efficiency is in accordance with IEC 60034-40-1 2014
Motor data for 1000 rpm, 6-pole, 50 Hz
| Motor type | Axis height [mm] | Linear voltage [V] | Output power [kW] | Nominal speed [rpm] | Efficiency* @ 100% load | Efficiency* @ 75% load | Efficiency* @ 50% load | Power factor Cos φ | Nominal current In [A] | Start current, Is / In | Nominal torque Tn [Nm] | Start torque, Tl / Tn | Max torque, Tb / Tn | Mass of active materials [kg] |
| --- | --- | --- | --- | --- | --- | --- | --- | --- | --- | --- | --- | --- | --- | --- |
| ADP71S6IE4 | 71 | 400 Y | 0.18 | 930 | 0.698 | 0.673 | 0.609 | 0.53 | 0.707 | 3.08 | 1.85 | 3.02 | 3.04 | 4.52 |
| ADP71L6IE4 | 71 | 400 Y | 0.25 | 921 | 0.737 | 0.73 | 0.687 | 0.61 | 0.796 | 3.26 | 2.59 | 2.57 | 2.62 | 5.14 |
| ADP80S6IE4 | 80 | 400 Y | 0.37 | 925 | 0.774 | 0.779 | 0.755 | 0.69 | 0.997 | 3.41 | 3.82 | 1.95 | 2.08 | 6.45 |
| ADP80L6IE4 | 80 | 400 Y | 0.55 | 931 | 0.802 | 0.808 | 0.788 | 0.69 | 1.43 | 3.61 | 5.64 | 1.97 | 2.2 | 8.67 |
| ADP90S6IE4 | 90 | 400 Y | 0.75 | 937 | 0.823 | 0.825 | 0.804 | 0.67 | 1.98 | 3.62 | 7.64 | 1.79 | 2.02 | 12.1 |
| ADP90L6IE4 | 90 | 400 Y | 1.1 | 935 | 0.837 | 0.846 | 0.834 | 0.72 | 2.65 | 3.56 | 11.2 | 1.67 | 1.85 | 14.8 |
| ADP100S6IE4 | 100 | 400 Y | 1.5 | 954 | 0.87 | 0.875 | 0.863 | 0.71 | 3.53 | 4.08 | 15 | 1.6 | 1.98 | 19.1 |
| ADP112S6IE4 | 112 | 400 Y | 2.2 | 956 | 0.874 | 0.88 | 0.872 | 0.81 | 4.49 | 8.75 | 22 | 1.99 | 3.85 | 22.7 |
| ADP132S6IE4 | 132 | 400 Y | 3 | 966 | 0.885 | 0.89 | 0.882 | 0.82 | 5.94 | 5.27 | 29.7 | 2.31 | 2.53 | 28 |
| ADP132L6IE4 | 132 | 400 Y | 4 | 967 | 0.893 | 0.896 | 0.887 | 0.79 | 8.17 | 5.18 | 39.5 | 1.91 | 2.5 | 35 |
| ADP132S6IE4 | 132 | 400 Y | 5.5 | 970 | 0.903 | 0.906 | 0.897 | 0.81 | 10.9 | 5.5 | 54.2 | 2.03 | 2.61 | 43.8 |
| ADP160S6IE4 | 160 | 400 Y | 7.5 | 981 | 0.918 | 0.922 | 0.916 | 0.82 | 14.4 | 5.77 | 73 | 1.64 | 2.38 | 56.3 |
| ADP160L6IE4 | 160 | 400 Y | 11 | 982 | 0.927 | 0.929 | 0.923 | 0.8 | 21.4 | 5.33 | 107 | 1.4 | 2.35 | 76.4 |
| ADP180S6IE4 | 180 | 400 Y | 15 | 984 | 0.93 | 0.933 | 0.928 | 0.84 | 27.6 | 6.11 | 146 | 1.82 | 2.67 | 89.4 |
| ADP200S6IE4 | 200 | 400 Y | 18.5 | 986 | 0.935 | 0.939 | 0.936 | 0.88 | 32.6 | 6.79 | 179 | 1.8 | 2.59 | 105 |
| ADP200L6IE4 | 200 | 400 Y | 22 | 986 | 0.938 | 0.942 | 0.939 | 0.88 | 38.4 | 7.24 | 213 | 2.05 | 2.62 | 119 |
| ADP225S6IE4 | 225 | 400 Y | 30 | 988 | 0.944 | 0.948 | 0.944 | 0.86 | 53.3 | 6.56 | 290 | 1.58 | 2.58 | 157 |
| ADP250S6IE4 | 250 | 400 Y | 37 | 990 | 0.949 | 0.952 | 0.949 | 0.88 | 63.8 | 6.55 | 357 | 1.38 | 2.51 | 189 |
| ADP280S6IE4 | 280 | 400 Y | 45 | 993 | 0.955 | 0.953 | 0.944 | 0.84 | 80.8 | 9.18 | 433 | 1.87 | 3.66 | 280 |
| ADP280L6IE4 | 280 | 400 Y | 55 | 993 | 0.957 | 0.956 | 0.949 | 0.87 | 95 | 9.28 | 529 | 1.87 | 3.58 | 322 |
| ADP315S6IE4 | 315 | 400 Y | 75 | 990 | 0.96 | 0.961 | 0.958 | 0.89 | 127 | 6.48 | 723 | 1.2 | 2.49 | 371 |
| ADP315M6IE4 | 315 | 400 Y | 90 | 990 | 0.962 | 0.963 | 0.959 | 0.87 | 155 | 6.53 | 868 | 1.23 | 2.54 | 420 |
| ADP315L6IE4 | 315 | 400 Y | 110 | 990 | 0.962 | 0.964 | 0.963 | 0.9 | 184 | 6.16 | 1061 | 1.16 | 2.34 | 455 |
| ADP315SL6IE4 | 315 | 400 Y | 132 | 990 | 0.963 | 0.965 | 0.964 | 0.9 | 219 | 6.17 | 1273 | 1.18 | 2.34 | 526 |
| ADP355S6IE4 | 355 | 690 Y | 160 | 990 | 0.963 | 0.966 | 0.964 | 0.9 | 155 | 7.09 | 1543 | 0.96 | 2.65 | 589 |
| ADP355M6IE4 | 355 | 690 Y | 200 | 990 | 0.964 | 0.967 | 0.966 | 0.91 | 191 | 6.76 | 1929 | 0.93 | 2.5 | 670 |
| ADP355L6IE4 | 355 | 690 Y | 250 | 992 | 0.966 | 0.968 | 0.966 | 0.89 | 243 | 7.63 | 2408 | 1.06 | 2.86 | 782 |
*Efficiency is in accordance with IEC 60034-40-1 2014
Motor data for 750 rpm, 8-pole, 50 Hz
| Motor type | Axis height [mm] | Linear voltage [V] | Output power [kW] | Nominal speed [rpm] | Efficiency* @ 100% load | Efficiency* @ 75% load | Efficiency* @ 50% load | Power factor Cos φ | Nominal current In [A] | Start current, Is / In | Nominal torque Tn [Nm] | Start torque, Tl / Tn | Max torque, Tb / Tn | Mass of active materials [kg] |
| --- | --- | --- | --- | --- | --- | --- | --- | --- | --- | --- | --- | --- | --- | --- |
| ADP80L8IE4 | 80 | 400 Y | 0.25 | 692 | 0.712 | 0.697 | 0.643 | 0.54 | 0.945 | 2.41 | 3.45 | 1.92 | 2.17 | 6.33 |
| ADP90S8IE4 | 90 | 400 Y | 0.37 | 710 | 0.789 | 0.774 | 0.729 | 0.56 | 1.22 | 3.02 | 4.97 | 1.91 | 2.34 | 9.75 |
| ADP90L8IE4 | 90 | 400 Y | 0.55 | 712 | 0.809 | 0.797 | 0.756 | 0.56 | 1.76 | 3.1 | 7.38 | 1.93 | 2.31 | 12.9 |
| ADP100S8IE4 | 100 | 400 Y | 0.75 | 723 | 0.842 | 0.83 | 0.793 | 0.54 | 2.39 | 3.62 | 9.91 | 1.94 | 2.53 | 16.8 |
| ADP100L8IE4 | 100 | 400 Y | 1.1 | 721 | 0.854 | 0.845 | 0.813 | 0.55 | 3.38 | 3.48 | 14.6 | 1.82 | 2.36 | 21.7 |
| ADP112S8IE4 | 112 | 400 Y | 1.5 | 701 | 0.829 | 0.839 | 0.827 | 0.68 | 3.84 | 3.2 | 20.4 | 1.56 | 1.85 | 20.1 |
| ADP132S8IE4 | 132 | 400 Y | 2.2 | 718 | 0.869 | 0.872 | 0.857 | 0.69 | 5.3 | 3.7 | 29.2 | 1.43 | 2.04 | 29.9 |
| ADP132L8IE4 | 132 | 400 Y | 3 | 716 | 0.875 | 0.881 | 0.871 | 0.71 | 7.01 | 3.55 | 40 | 1.32 | 1.88 | 36.2 |
| ADP160S8IE4 | 160 | 400 Y | 4 | 732 | 0.891 | 0.895 | 0.885 | 0.69 | 9.42 | 4.14 | 52.2 | 1.37 | 1.82 | 43.4 |
| ADP160M8IE4 | 160 | 400 Y | 5.5 | 732 | 0.901 | 0.907 | 0.9 | 0.71 | 12.5 | 4.37 | 71.7 | 1.43 | 1.84 | 53.6 |
| ADP160L8IE4 | 160 | 400 Y | 7.5 | 731 | 0.905 | 0.913 | 0.908 | 0.71 | 16.8 | 4.13 | 98 | 1.35 | 1.72 | 64.8 |
| ADP180S8IE4 | 180 | 400 Y | 11 | 733 | 0.907 | 0.914 | 0.909 | 0.75 | 23.5 | 3.99 | 143 | 1.25 | 1.89 | 76.1 |
| ADP200S8IE4 | 200 | 400 Y | 15 | 737 | 0.923 | 0.929 | 0.926 | 0.79 | 29.6 | 4.29 | 194 | 1.47 | 2.33 | 101 |
| ADP225S8IE4 | 225 | 400 Y | 18.5 | 738 | 0.929 | 0.936 | 0.935 | 0.82 | 35 | 4.89 | 239 | 1.27 | 1.9 | 119 |
| ADP225L8IE4 | 225 | 400 Y | 22 | 738 | 0.931 | 0.938 | 0.938 | 0.82 | 41.6 | 4.71 | 285 | 1.23 | 1.84 | 133 |
| ADP250S8IE4 | 250 | 400 Y | 30 | 742 | 0.945 | 0.948 | 0.944 | 0.81 | 56.7 | 5.32 | 386 | 1.23 | 2.2 | 195 |
| ADP280S8IE4 | 280 | 400 Y | 37 | 742 | 0.943 | 0.945 | 0.941 | 0.8 | 70.6 | 5.56 | 476 | 1.24 | 2.29 | 221 |
| ADP280L8IE4 | 280 | 400 Y | 45 | 741 | 0.941 | 0.946 | 0.945 | 0.83 | 83 | 5.12 | 580 | 1.13 | 2.04 | 236 |
| ADP315S8IE4 | 315 | 400 Y | 55 | 742 | 0.953 | 0.956 | 0.954 | 0.84 | 99.2 | 5.46 | 708 | 1.16 | 2.17 | 328 |
| ADP315M8IE4 | 315 | 400 Y | 75 | 741 | 0.954 | 0.958 | 0.957 | 0.84 | 135 | 4.94 | 966 | 1.05 | 1.97 | 387 |
| ADP315L8IE4 | 315 | 400 Y | 90 | 741 | 0.953 | 0.958 | 0.959 | 0.85 | 161 | 4.71 | 1161 | 1.01 | 1.86 | 426 |
| ADP315SL8IE4 | 315 | 400 Y | 110 | 741 | 0.956 | 0.96 | 0.959 | 0.83 | 200 | 4.66 | 1418 | 1.01 | 1.88 | 505 |
| ADP355S8IE4 | 355 | 690 Y | 132 | 743 | 0.961 | 0.963 | 0.961 | 0.87 | 132 | 6.9 | 1696 | 0.95 | 2.6 | 610 |
| ADP355M8IE4 | 355 | 690 Y | 160 | 743 | 0.962 | 0.964 | 0.962 | 0.86 | 161 | 6.56 | 2056 | 0.91 | 2.49 | 691 |
| ADP355L8IE4 | 355 | 690 Y | 200 | 743 | 0.963 | 0.965 | 0.964 | 0.87 | 200 | 6.84 | 2569 | 0.96 | 2.58 | 843 |
*Efficiency is in accordance with IEC 60034-40-1 2014